---
Greater Goods Coffee is a small-batch coffee roaster based in Austin, Texas. Founded in 2015 by Khanh Trang and Trey Cobb, GG aims to source, roast, and serve quality specialty coffee with a focus on creativity and community. With each bag sold, they donate a portion of the proceeds to a local charity partner. Greater Goods must be doing something right. They were named Roaster of the Year by Roast Magazine in 2021 and are consistently ranked among the country's top roasters in CoffeeReview, Food & Wine Magazine, Gear Patrol, and more.
We met with their team to discuss their secret to success.
[MB] What's the most important thing that MistoBox customers should know about you?
[GG] We have two passions – roasting some of the world's best coffees and trying to do good in the communities we serve. We hand-select specialty-grade coffees from around the world, roast them to perfection at our Dripping Springs roastery, and serve them with love at our East Austin and Bee Cave cafes. A portion of the proceeds from every bag of coffee we sell goes to Texas-based charities.
[MB] Giving back is a big part of what you do. Could you tell us about the mantra "Let's Make Good"?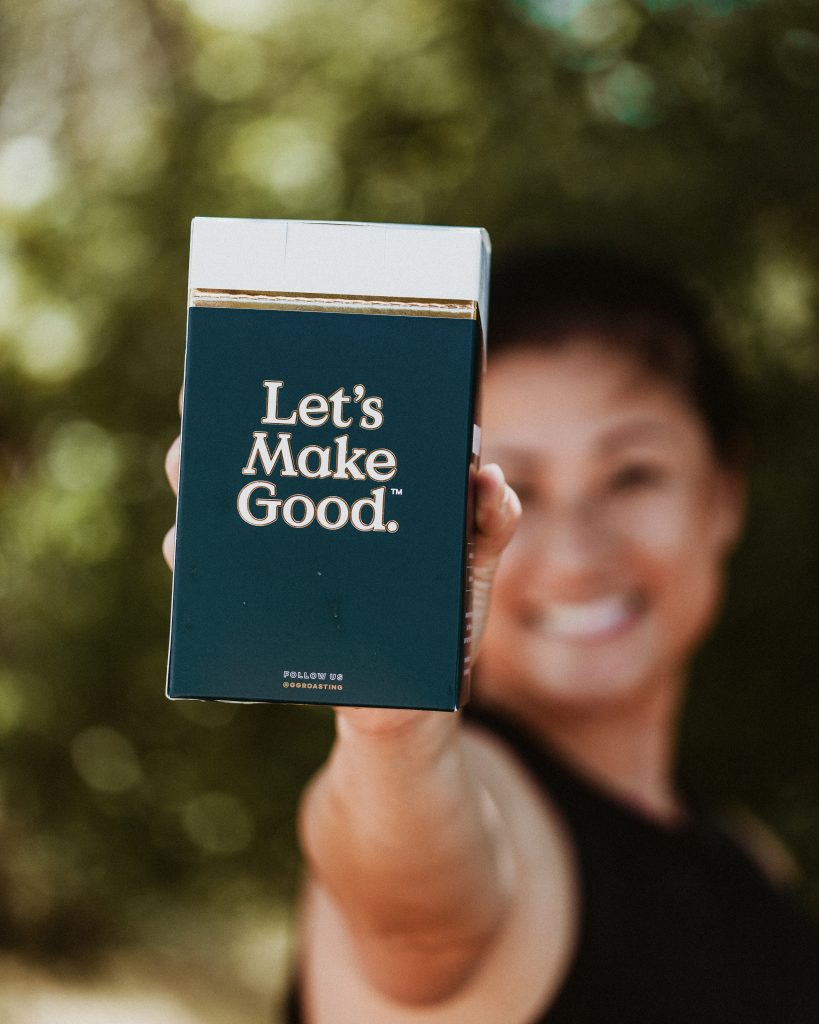 [GG] We're on a mission to "make good" by:
-Sourcing, roasting, and serving great coffee
-Sharing coffee knowledge within the community and the industry 
-Giving back to our community by supporting local causes

While we give all three pillars of our mission equal weight, we're most proud of #3. From our inception, we've donated to local charities through retail coffee sales. We currently partner with three Austin charities: Central Texas Food Bank, Austin Pets Alive!, and the Autism Society of Texas. (Add how much we've donated to date.)
[MB] What issue in coffee do you care about most?
[GG] We want coffee to be around for a long time, so it's critical to support environmental, economic, and social sustainability at origin. We choose to partner with producers who provide living wages, offer employee benefits, and utilize agricultural practices that protect the environment. We develop impact-driven relationships whenever we can so we can make firsthand assessments, exchange ideas, and offer support. We pay more-than-Fair-Trade prices to ensure that our partners at origin are able to invest in their farms and their communities.
[MB] How do you go about sourcing coffee? What do you look for?
[GG] From Colombia to Kenya, we travel far and wide to find the world's best coffee. Flavor is key, and our quality team professionally evaluates the sensory characteristics of each potential coffee. We partner with producers who believe in fair wages, community benefits, and sustainable environmental practices. Once the coffee gets to us, we craft individual roast recipes to bring out the best in each batch. We think our sourcing and roasting set us apart, and it seems others agree: Food & Wine named us the best coffee in Texas in 2019, and Roast Magazine named us Micro Roaster of the Year for 2021.
[MB] What machine(s) do you roast with?
[GG] We use Loring roasters to maximize consistency while minimizing environmental impact and energy consumption. By our calculations, our Loring roasters helped us save over 30,000 pounds of CO last year alone. We also donate all of our chaff, spent coffee grounds, and coffee sacks to local gardeners and farmers.
[MB] How'd you decide to become educators in addition to coffee roasters? Could you tell us about your SCA training campus and the training you offer?
[GG] Providing community and industry access to education is a cornerstone of our business model and the reason why we opened our own training campus in conjunction with our East Austin cafe. In addition to Specialty Coffee Association certification courses, we host public classes and drop-in sessions on topics like seed-to-cup, espresso, home brewing, latte art, and more. It's a great way to bring our mission to our community and help build their understanding around the value of specialty coffee.