Lemon Curd Muffins with streusel crumb topping, drizzled with sweet glaze are generously filled with homemade lemon curd are easy dessert, breakfast or snack for true lemon lovers.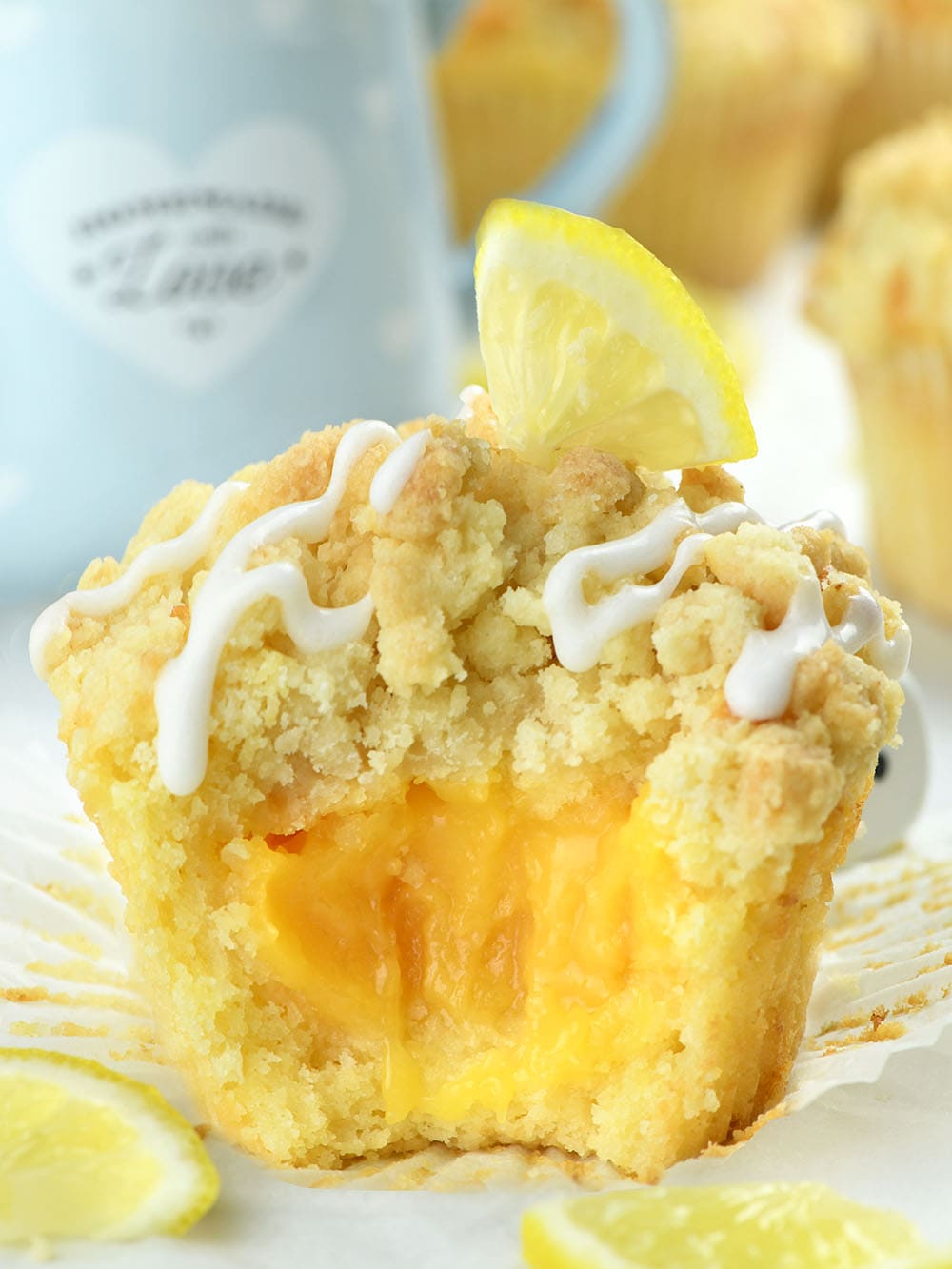 Thanks to fresh lemon juice and zest in the muffin batter, plus a scoop of a lemon curd filling make these muffins bursting with refreshing lemon flavour.
If you are lemon lover check my Lemon Coffee Cake, Lemon Magic Cake, No Bake Lemon Cheesecake Bars and Lemon Cream Cheese Muffins, too.
Sweet and tangy muffins with crunchy streusel crumbs and soft lemon filling paired with a mug of a freshly brewed coffee are good enough reason to jump of the bad during cold winter days. Lemon Curd Muffins are perfect, bright, and sunny breakfast to lighten your day.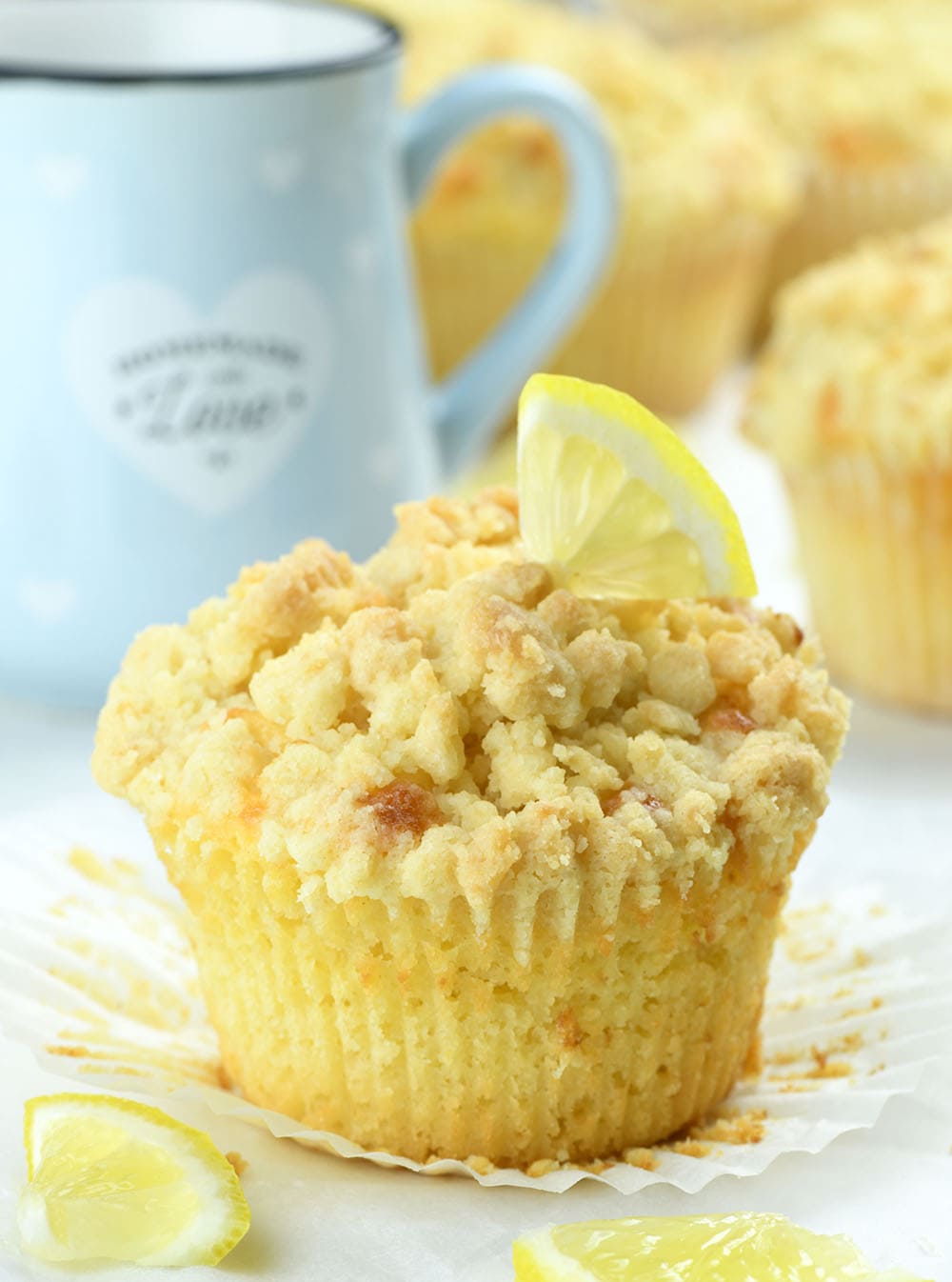 How to make Lemon Curd Muffins?
Making the muffin batter and streusel crumb topping are really simple and easy, especially if you use store bought lemon curd.
You'll need:
All-purpose flour
Sugar
Unsalted butter
Freshly squeezed lemon juice and grated lemon zest
Eggs
Greek yogurt
Vanilla, baking powder and baking soda
Lemon Curd
You can use store-bought lemon curd or make homemade from scratch. I prefer to make lemon curd at home.
To make the streusel crumb topping, in a bowl stir together sugar, brown sugar and flour, then add melted butter and stir well until all dry ingredients are evenly moistened and form coarse crumbs. Place in the fridge until ready to use.
To make the muffin batter, beat softened butter, then add sugar and beat well. Add eggs, lemon zest, Greek yogurt, lemon juice and vanilla and mix to combine. Finally mix in dry ingredients and your batter is ready for baking.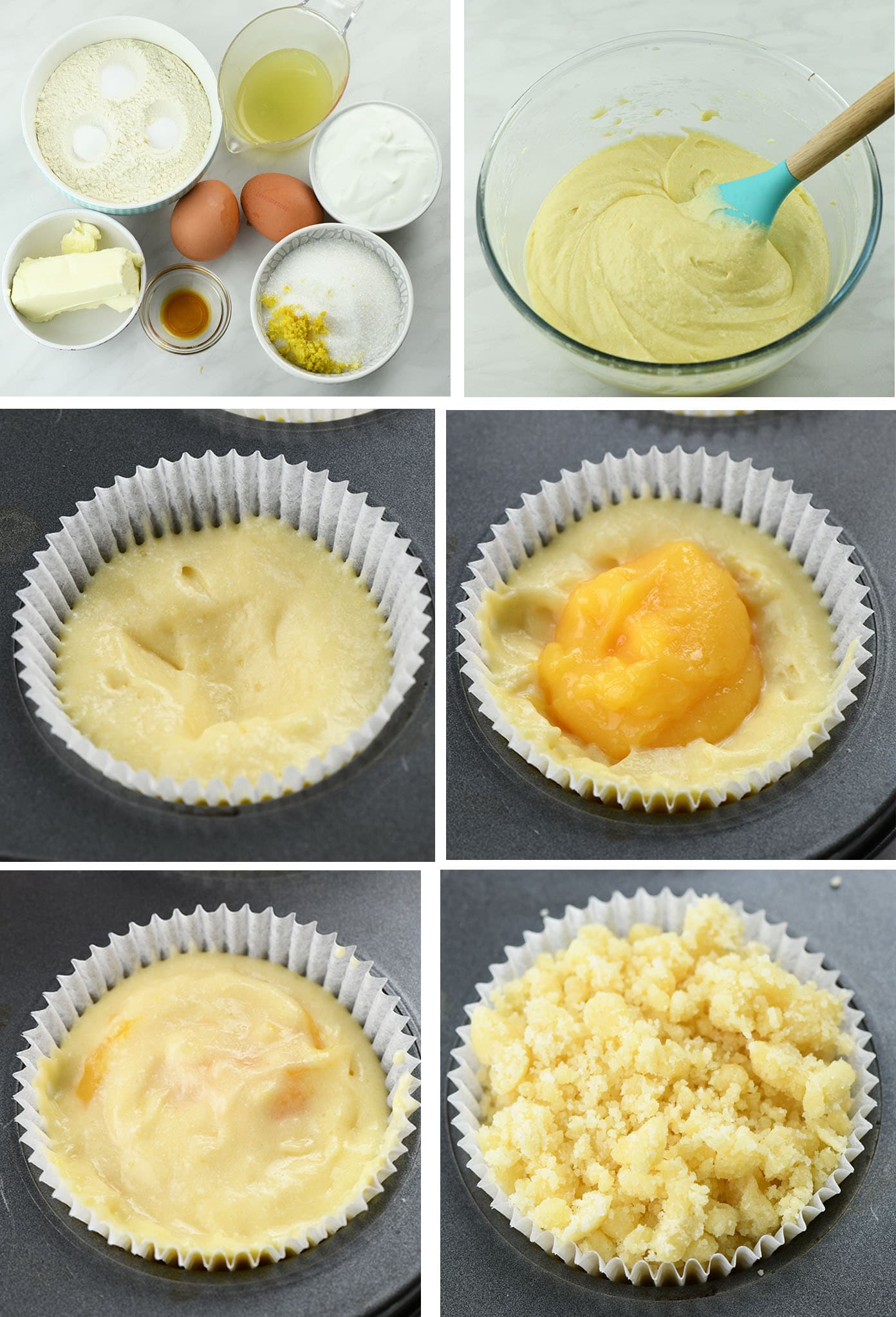 How to Make Homemade Lemon Curd from Scratch?
This from-scratch lemon curd is deliciously tangy, creamy, and sweet. And it comes together on the stove in 10 minutes!
You need only 4 ingredients:
Egg yolks- egg yolks thicken the curd
Sugar
Lemon (both juice and zest)
Cold unsalted butter-butter makes it super creamy
Making homemade lemon curd may sound too complicated, but it is super simple.
You can easily make lemon curd on the stove. Make sure you are constantly whisking as the mixture thickens. It's about 10 minutes of whisking, but totally worth it. I recommend cooking the lemon curd in a double boiler because mixing these ingredients over direct heat quickly leads to burning. Whisk together egg yolks, granulated sugar, lemon zest and lemon juice, into the top pot of your double boiler, then using a silicone spatula continue to stir as the curd cooks. Stir constantly to prevent the egg yolks from curdling. Cook until the mixture becomes thick, about 10 minutes. If curd isn't thickening, turn up the heat and constantly whisk.
Remove pan from heat, add butter and whisk into the curd. The butter will melt from the heat of the curd. Pour curd into a jar or bowl and place a piece of plastic wrap directly on top so it is touching the top of the curd to prevents a skin from forming on top. The curd will continue to thicken as it cools. You can refrigerate the curd for up to about 10 days.
Description
Lemon Curd Muffins with streusel crumb topping, drizzled with sweet glaze are generously filled with homemade lemon curd are easy dessert, breakfast or snack for true lemon lovers
---
Ingredients
Lemon Curd:
3

egg yolks

1/4

cup

lemon juice

2 teaspoons

lemon zest

6 Tablespoons

sugar

1/4

cup

butter-cold and cut in pieces
Streusel Crumb Topping:
1

cup

all-purpose flour

1/4

cup

sugar

1/4

cup

light brown sugar

6 Tablespoons

unsalted butter-melted
For Lemon Muffins:
1 1/2

cups

all-purpose flour

1/4 teaspoon

salt

1/2 teaspoon

baking powder

1/4 teaspoon

baking soda

1/3

cup

unsalted butter-room temperature

3/4

cup

sugar

2

eggs

2/3

cup

Greek yogurt

1 teaspoon

vanilla extract
Grated zest from 1 lemon

2 Tablespoons

fresh lemon juice
For Glaze:
3/4

cup

powdered sugar

1

–

2

Tablespoons milk or cream
---
Instructions
Make lemon curd ahead, because it takes time to cool and set completely. I recommend cooking the lemon curd in a double boiler because mixing these ingredients over direct heat quickly leads to burning. Whisk together egg yolks, granulated sugar, lemon zest and lemon juice into the top pot of your double boiler, place over simmering water and then using a silicone spatula continue to stir as the curd cooks. Stir constantly to prevent the egg yolks from curdling. Cook until the mixture becomes thick, about 10 minutes. If curd isn't thickening, turn up the heat and constantly whisk.
Remove pan from heat, add butter and whisk into the curd. The butter will melt from the heat of the curd. Pour curd into a jar or bowl and place a piece of plastic wrap directly on top so it is touching the top of the curd to prevents a skin from forming on top. The curd will continue to thicken as it cools.
Preheat oven to 350F. Line a 12-count muffin pan with paper liners and set aside.
Stir together flour, baking powder, baking soda, and salt, set aside.
Beat the butter on high speed until smooth and creamy (about 1 minute), then add sugar and cream together. Add eggs, vanilla extract, lemon zest and Greek yogurt, and mix just to combine. Add lemon juice and mix to combine.
Finally, add flour mixture and mix until combined.
Spoon batter into prepared pan, filling them about ½ full with muffin batter.
Drop about a tablespoon of lemon curd into the center of each muffin, cover with a thin layer of muffin batter. The cups should be about ¾ full. Then generously top with streusel crumb. Gently press the crumb to stick to the batter.
Bake for about 25 minutes or until the muffin has set and the crumbs get nice golden brown color.
To make the glaze, stir together powdered sugar and milk (or creme) and drizzle over the muffins. If the glaze is too thin add more liquid, if it is too thin add more powdered sugar