Weeknights can be busy so whenever dinner time rolls around and you're wondering what you can quickly whip together, here's a list of 15 recipes that will help you get dinner on the table in no time! Below are some of my favorite easy chicken recipes that can be made in 30 minutes or less.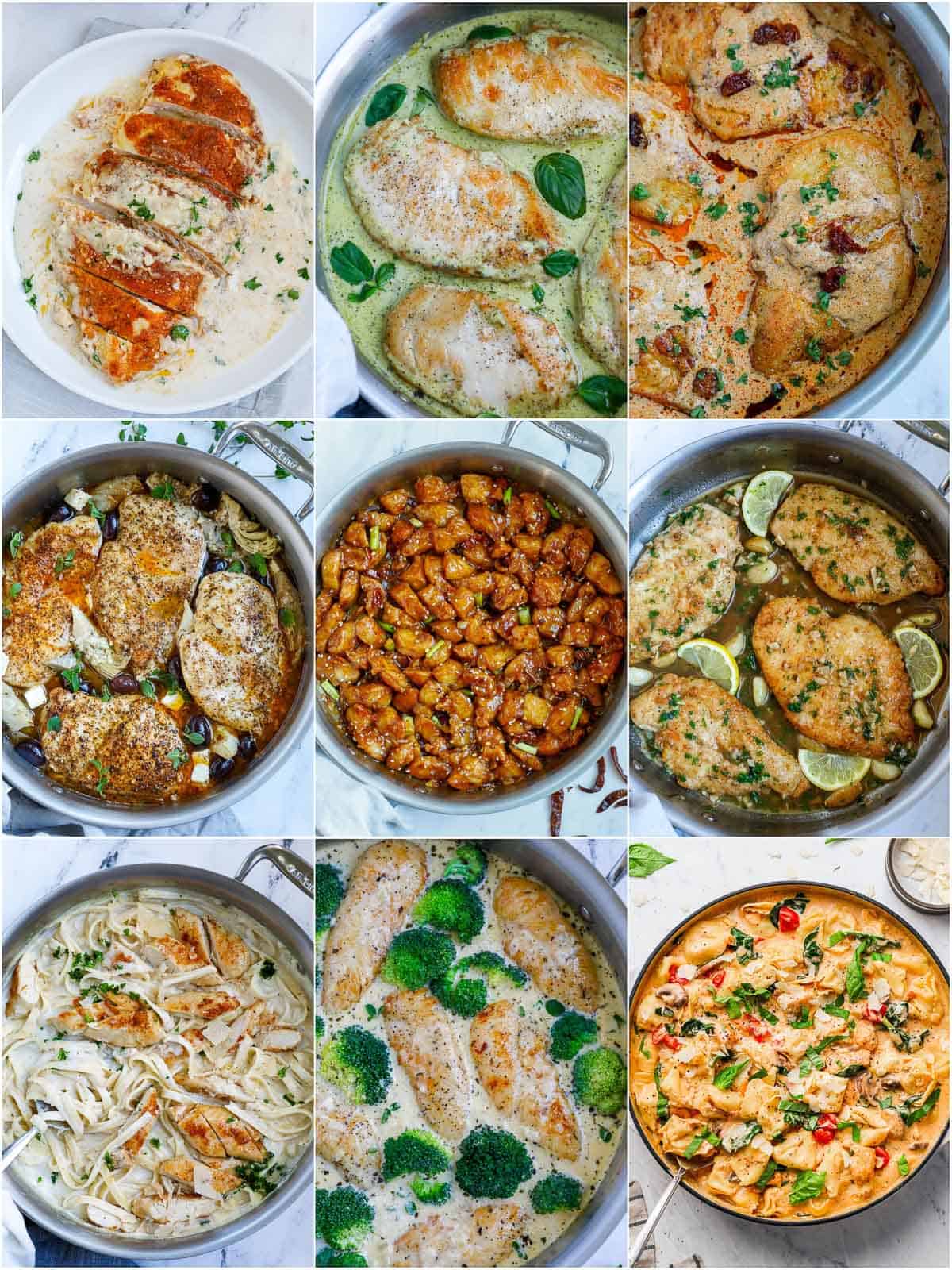 These chicken recipes uses common ingredients, pantry/kitchen staples, and aren't complicated to make, just perfect for an easy dinner. You don't have to spend hours in the kitchen to make a healthy meal for your family!
Best Chicken Recipes for Dinner Or Lunch
Quick and easy, here are 15 simple chicken recipes that you can make in 30 minutes or less!
Creamy Caesar Chicken
This Creamy Caesar Chicken is a fun twist on a caesar salad without the salad! It's so flavorful, crispy, and will practically melt in your mouth. Made with pantry staples, you can make this creamy chicken recipe tonight for dinner!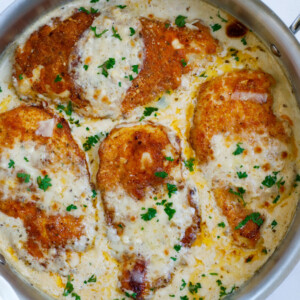 Creamy Pesto Chicken Recipe
This Creamy Pesto Chicken is a restaurant quality meal that you can whip up in no time! Succulent chicken in a creamy pesto sauce.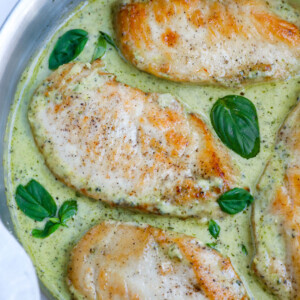 Creamy Cajun Chicken
Creamy and easy, this Creamy Cajun Chicken is a delicious pan-fried recipe that takes less than 30 minutes to make! Smothered with a thick and delicious creamy cajun flavored sauce, this is the perfect weeknight meal.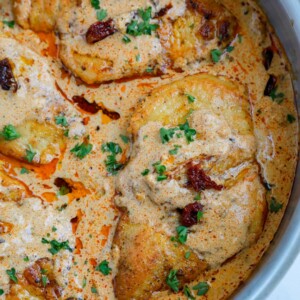 Easy General Tso's Chicken
Sticky, saucy, and super crispy, you'll love this General Tso's Chicken recipe. This take-out favorite is super easy to make at home and will be done by the time it takes for it to be delivered from your favorite restaurant!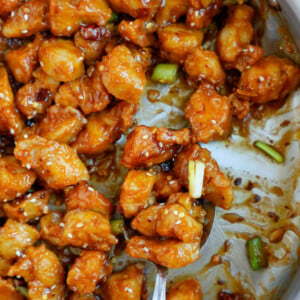 Easy Lemon & Garlic Chicken
This Lemon and Garlic Chicken is packed with flavor! Made on one skillet, succulent pan fried chicken is covered in a zesty garlic and lemon sauce.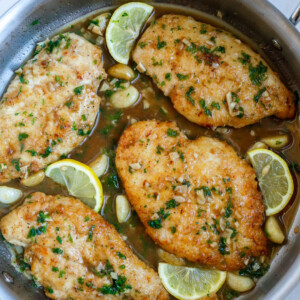 Creamy Tuscan Chicken
This Creamy Tuscan Chicken recipe serves up juicy, pan seared chicken in a creamy sauce with sun dried tomatoes and spinach.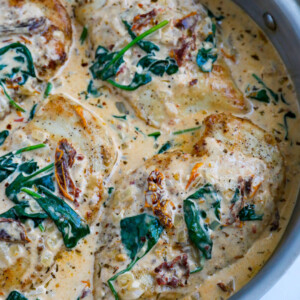 Creamy Broccoli Chicken Recipe
This Creamy Chicken Broccoli will become a household favorite! This is an awesome one-pot chicken recipe that's delicious and nutritious!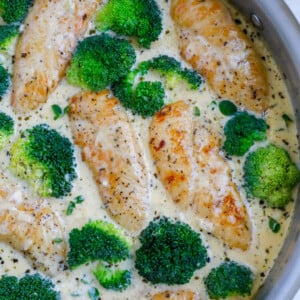 Lemon Chicken Piccata
This Lemon Chicken Piccata serves up succulent chicken in a delicious lemon, caper, garlic sauce. So easy to make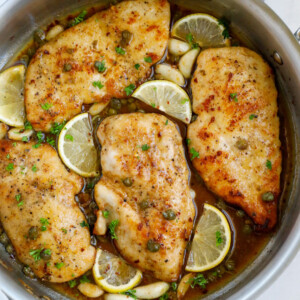 Greek Chicken Skillet Recipe
This Greek Chicken Skillet recipe served up juicy, pan seared chicken in a delicious Greek marinade. It's a one pot meal, packed with flavor!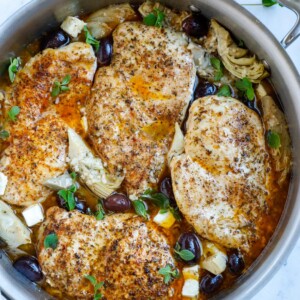 Creamy Chicken Alfredo Pasta Recipe
This Creamy Chicken Alfredo pasta recipe is a restaurant quality dish that's so easy to whip up! Succulent chicken in a creamy, cheesy garlic sauce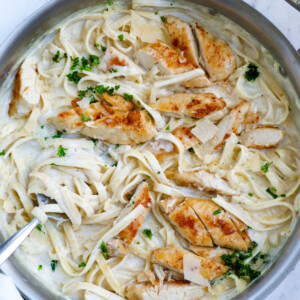 Easy Sticky Chicken Recipe
This Easy Sticky Chicken recipe is a delicious weeknight meal your family will love! It's made on the healthier side, making it also a great meal-prep meal.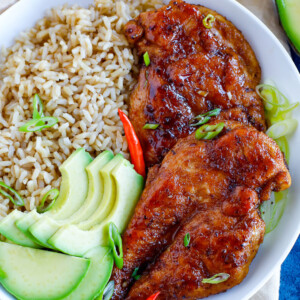 Spicy Cashew Chicken
This Spicy Cashew Chicken is a delicious take away inspired stir fry meal made at home in less than 30 minutes and costs so much less!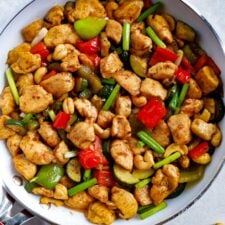 Spicy Teriyaki Chicken with Broccoli
Pan seared chicken coated in a spicy teriyaki sauce and cooked with fresh broccoli makes the perfect week night dinner!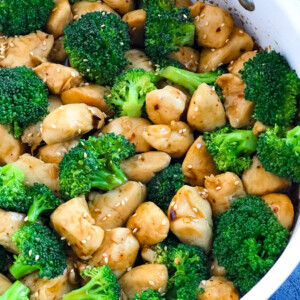 Creamy Chicken and Mushroom Pasta
This Creamy Mushroom Chicken Pasta is so delicious and comforting. Made in less than 30 minutes, it makes for such an easy family dinner. Perfectly tender pasta coated with a creamy sauce and tossed with bite-sized pieces of chicken and mushroom, everyone will be reaching for seconds!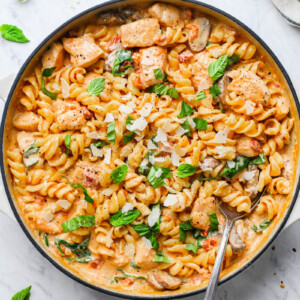 Creamy Tortellini Chicken Pasta
A creamy tortellini pasta recipe packed with fresh vegetables, savory chicken, and a creamy tortellini sauce.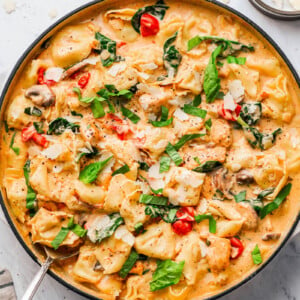 Common Questions
What skillet should I use?
All of these recipes uses a skillet. You are welcome to use whatever skillet you have on hand from stainless steel to cast iron to non-stick.
How long does it take to cook chicken?
Not long! All these recipes take 30 minutes or less. To tell when your chicken is cooked through, use an instant read thermometer. The USDA recommends that your chicken hits a minimum internal temperature of 165 F.
Do I have to use chicken breasts?
You can swap the chicken breasts for chicken thighs if you would like! Chicken thighs need to be cooked to an internal temperature of 165 F to 170 F.
What are different ways to cook chicken?
You can cook chicken in so many different ways, which are Stir-frying, Grilling/BBQ, Pan-frying, Air frying and Baking or Roasting.
What to add to chicken to make it tasty?
The best way to make your chicken taste better is adding spices! I love buying premade spices and trying many different kinds. Also premade or homemade chicken sauces are a great way to do that.
Is chewy chicken undercooked?
Not necessarily, sometimes overcooking your chicken may also cause it to become dry and chewy. But it can also be undercooked. Check if the inside of the chicken is pink or use a cooking thermometer when cooking your chicken and make sure you do not cook over 165 F.
And there you have it! 15 different chicken recipes that you can make for dinner this week in 30 minutes of less! Tell me, how do you make busy weeknights easier? Let me know in the comments down below.
I hope you enjoy all the recipes I share with you. I hope you try it, enjoy it, rate it and share it with your friends and family!
If you try any recipes in this round up and like it, please use my hashtag to share it with me on INSTAGRAM for a chance to be featured in my story! Also, follow me at Cookin' With Mima on FACEBOOK |INSTAGRAM |PINTEREST for all of my latest social posts and recipes.